2022 Speakers
Oct. 6 "Conference In-Person" Speakers
Jane Fonda
JANE FONDA is a two-time Academy Award-winning actor, producer, author, activist, and fitness guru. Her career has spanned over 50 years, accumulating a body of film work that includes over 45 films and crucial ...
Read Full Bio
Arianna Huffington
ARIANNA HUFFINGTON is the founder and CEO of Thrive, the founder of The Huffington Post, and the author of 15 books, including, most recently, Thrive and The Sleep Revolution. In 2005, she launched The Huffington ...
Read Full Bio
Yara Shahidi
YARA SHAHIDI is an award-winning actress, producer, and the breakout star of ABC's Emmy and Golden Globe-nominated series black-ish. In 2019, alongside her business partner and mother, Keri Shahidi, she expanded ...
Read Full Bio
Oct. 6 "Conference In-Person" Special Guest Speakers
Tamala Edwards
TAMALA EDWARDS is the coanchor of Action News Morning, on 6abc WPVI-TV. Before coming ...
Read Full Bio
Cari Gallman
CARI GALLMAN, chief compliance and ethics officer at Bristol Myers Squibb, is ...
Read Full Bio
Oct. 7 "Conference Anywhere" Keynote Speakers
Dr. Kizzmekia S. Corbett, PhD
Dr. KIZZMEKIA S. CORBETT, PhD, is an assistant professor of immunology and ...
Read Full Bio
Marlee Matlin
MARLEE MATLIN received worldwide critical acclaim for her film debut in Children of ...
Read Full Bio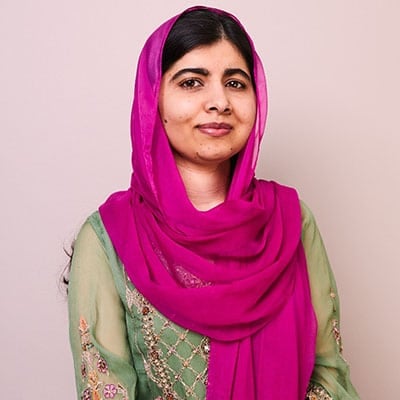 Malala Yousafzai
MALALA YOUSAFZAI, inspired by her father's activism, began her campaign for ...
Read Full Bio
Oct. 7 "Conference Anywhere" Special Guest Speakers
Oct. 7 "Conference Anywhere" Breakout Session Speakers
Oct. 7 "Conference Anywhere" Session Hosts
Oct. 7 "Conference Anywhere" Executive Spotlights
Oct. 7 "Conference Anywhere" Learning Burst Speakers